Why Staying in Lastarria is the Best Choice for a Business Traveller to Chile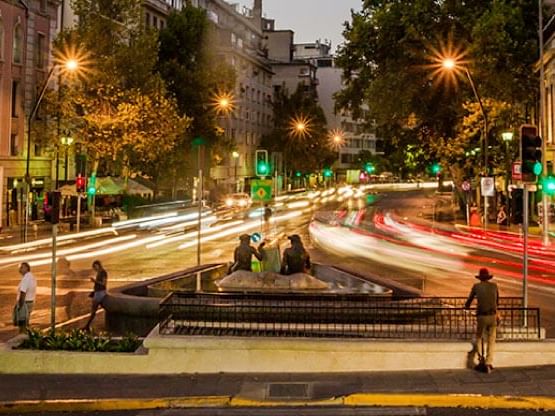 A business traveller must juggle a busy schedule, and choosing the right hotel to stay amid seminars, meetings, workshops and networking events can really take a big load off their back. In order to do that, one key attribute is a good location.
That's why Lastarria might as well be called "the loveliest location" in Santiago, for its bustling environment, its range of views and its diverse options for any walking tour.
1. An easy to access location within Downtown Santiago
Lastarria has a huge advantage in terms of connection within the central district and other parts of the city. It is located at a walking distance to the political and financial nodes, and it is next to a series of Metro stations to easily connect with other areas of the capital.
If you're just arriving or leaving town, its nearby connection to the Costanera Norte urban highway puts you at arm's length from the airport and the network of motorways to any other city.
2. A diverse neighborhood with parks and museums
Central Santiago holds picturesque and warm European style parks and buildings. Just South of the Mapocho river, the Parque Forestal is one of the most important green areas of the city and a must for locals and tourists.
The park is flanked with restaurants, cafes, the historical center and the Museo de Bellas Artes, a fine arts museum with the French-style architecture that is typical of this district.
The Santa Lucía hill, on the other hand, was the natural fortress where the city was born. Now an attractive promenade, it has a long tradition of welcoming tourists.
3. Cafes, bars and restaurants a few yards from the hotel
One thing that Lastarria is plentiful of is places to have a bite or drink. Whether you just want to sip a traditional cortado coffee and read a newspaper, have an informal meeting, hear some music or plug in your laptop to get some work done, there are options for all types of business traveller.
The Guardian found the best wine bar in Santiago here, with a great wine list, the best menu of pisco in the country, and a chance to compare the Peruvian and Chilean styles of this spirit.

4. A relaxing and intimate neighborhood
Lastarria not only holds a unique place for meetings, but also makes it easy to take a well-deserved break, so that the business traveller can become a regular unwound tourist.
The area boasts a European architectural style, with bookshops, antique stores and stands across the streets, as well as small theaters running plays and old movies.
We hope you find this part of Santiago convenient for your next business trip. You will not only find your activities productive, but you will also be able to take some time off your schedule to unwind, walk around and enjoy this vibrant urban area.